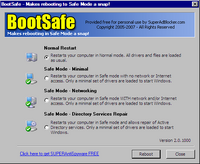 SUPERAntiSpyware (SAS) is a software application distributed as shareware which can detect and remove spyware, adware, malware, trojans, rogue software, worms, rootkits, parasites and other potentially harmful software applications, as well as restore modified system settings. It can detect malware, however it is not designed to replace an antivirus software.SUPERAntiSpyware is updated several times a week, normally daily or every 2–3 days. SUPERAntiSpyware generally receives a build update every 2–3 months. It is specifically designed to be compatible with other security applications, and therefore can be used with Real-Time protection on even with other applications which are often incompatible with antispywares, such as Kaspersky. It uses only around 500KB of RAM when idle, while protecting.
BootSafe, a program that facilitates booting into Safe Mode, is included.
A stripped down version named SUPERAntiSpyware Personal Edition is also available in SUPERAdBlocker, an ad-blocking product from the same developers as SUPERAntiSpyware.
Editions
[
]
The product is available as freeware for personal use with limited functions, such as no automatic update and scheduling, limited repairing functions etc., and bundles a commercial application with all the features.
A paid-for version handles updates automatically and can more completely disinfect infections.
Compatibility with other applications
[
]
SUPERAntiSpyware is compatible with most of the antivirus and antispyware programs, as well as Behaviour blocking and Intrusion Prevention System programs. Although there is no compatibility list, the product has been successfully used with products such as Avira, NOD32, Kaspersky, Symantec, McAfee, Webroot etc. Some incompatibilities with NVIDIA drivers have been reported, but they have been fixed in the latest release.
Critical reception
[
]
Received a 75/100 rating from 2-Spyware, where the program detected and removed all the test samples. 2-Spyware called the program powerful and highly effective, but not convenient or very easy to use.
Both the freeware and commercial version got a 4-star (of 5) average user rating in CNET's Download.com.
Received a "GOOD" rating from PC Magazine, who said it installs quickly and has a full scan faster than most, but found its actual performance "not as accurate as the best products" but getting better.
References
[
]
^ http://superantispyware.com/definitionupdatehistory.html ^ http://www.superantispyware.com/producthistory.html?id=SUPERANTISPYWARE ^ http://forums.superantispyware.com/viewtopic.php?f=22&t=2075 ^ http://www.2-spyware.com/review-superantispyware.html ^ http://www.download.com/SuperAntiSpyware-Professional/3000-8022_4-10849529.html ^ http://www.download.com/SUPERAntiSpyware-Free-Edition/3000-8022_4-10523889.html ^ http://www.pcmag.com/article2/0,2817,2281540,00.asp 
External links
[
]