eMail ID
Author

ICONIX, Inc

OS

Windows Vista, Windows 2000, Windows XP

Type
E-mail identification software
License
Freeware
Website
http://www.iconix.com/
eMail ID is a browser plug-in developed by Iconix that helps identify legitimate email messages in the inbox. It uses a two-step check to verify the authenticity of messages from hundreds of major companies and then displays the result in the "from" area so that the user knows what's real. This helps avoid opening and acting on phishing messages attempting to spoof real companies.eMail ID helps avoid fake messages and risks associated with them. It also helps find legitimate messages quickly. eMail ID uses technologies like Domain Keys and Sender ID which are backed by companies such as Cisco, Microsoft and Yahoo!. Once an email has passed authentication and identification steps, a Truemark icon is displayed in the inbox. It operates directly in the email client.
Trend Micro
also provides eMail ID through its supplier, Iconix , Inc.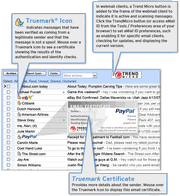 External links
Edit
Community content is available under
CC-BY-SA
unless otherwise noted.