This article is about antispyware software by Lavasoft. For advertising-supported software, see

adware

.
Ad-Aware is an antispyware software developed by Lavasoft that detects and removes spyware, adware and other malware on a user's computer.
Lavasoft offers a free, downloadable version called Ad-Aware Free, and three paid-for products called Ad-Aware Plus, Ad-Aware Pro and Ad-Aware Enterprise. The current version, Ad-Aware Anniversary Edition, celebrates Lavasoft's 10th year of providing malware detection and removal.
Ad-Aware was originally developed in 1999 to highlight web beacons inside of Internet Explorer. On almost every website you would see tiny pixelated square next to each web beacon. This was to warn you that your IP address and other non-essential information was being tracked by this website. Over time they added the ability to block those beacons, or ads. Ad-Aware no longer makes you aware of the ads on your screen, instead the programs fights spyware, adware and malware.
In 2009, by releasing the Anniversary Edition, Ad-Aware was bundled for the first time with an antivirus scanner, which uses the Avira engine. Ad-Aware Anniversary Edition does not support Windows 98 or ME; previous versions did support these older versions of Windows.[2]
Ad-Aware Anniversary Edition is the latest version of Lavasoft's anti-malware solutions. Each new version includes integrated real-time threat protection. The Plus and Pro versions include anti-virus protection. Ad-Aware Anniversary Edition allows computer users to combat malicious spyware, viruses, and malware; it protects users from malware that takes control of a computer and can result in aggressive advertising pop-ups, sluggish computer activity and stolen private information. Ad-Aware detects hazardous content on a user's computer, identifies the threat level, and then gives the user the ability to block or remove unwanted content.
Ad-Aware is compatible with Microsoft Windows operating systems only.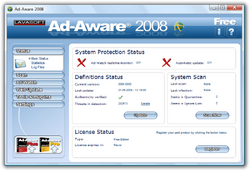 References
Edit
External links
Edit