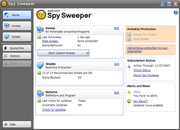 Spy Sweeper
is a software product that detects and removes
spyware
and
viruses
(if the optional anti-virus component is installed) on
personal computers
that run
Microsoft Windows
. It is sold by
Webroot Software
.
Features
Edit
Spy Sweeper examines files on a computer's hard disk drive, as well as objects in memory, the Windows registry and cookies, and quarantines any suspicious objects it finds. It is normally purchased as a yearly subscription; some broadband services, such as MSN Premium, also offer rebranded versions of Spy Sweeper as part of their subscription.
Versions
Edit
Webroot offers two versions of Spy Sweeper: a zero-cost 'spy scan' offering real-time protection from spyware, and a full version that allows for the removal of spyware. Licenses for the full version cost around US$30 each, which can be used for one year on one computer, or $40 for two years. Webroot also sells multiple-license subscriptions, allowing users to install their product on multiple computers using a single subscription, by purchasing either single-user, three-machine, or enterprise licenses.
Kevin Thomas, who was the identical twin brother of Steven Thomas (the founder of Webroot Software), invented the idea for Spy Sweeper. Behind the scenes, Kevin Thomas and Richard Koontz (Webroots ACE programmer) worked hard on developing Spy Sweeper, despite being at odds with the CEO at the time (David Moll). Richard, working from home on off hours, finished Spy Sweeper and the initial version was finally released in September 2004. At this time, neither Kevin Thomas or Richard Koontz have ever received credit for the invention of Spy Sweeper.
In October 2006, Webroot released Spy Sweeper with AntiVirus, which includes removal and protection of computer viruses . The anti-virus component is based on an anti-virus product made by the software vendor Sophos. In June 2007 version 5.5 was released, which included the ability to scan email attachments, and an improved user interface. W2000 users cannot upgrade from V5.5. In October 2008 version 6.0 was released.
The product has won many awards in the press , and was the first anti-spyware product to receive "Checkmark" certification from the testing company West Coast Labs
. It has also received an Editor's Choice award from PC Magazine and a Best Buy award from PC World.
References
Edit
http://www.webroot.com/En_US/about-press-room-reviews-and-awards-awards-spysweeper.html

http://www.westcoastlabs.com/checkmark/productList/?vendorID=46
External links
Edit
Community content is available under
CC-BY-SA
unless otherwise noted.